Lead Ballast - Ballast is used to provide distribution of weight, buoyancy and other application. Rectangular. Lead Bricks are often used in ballast applications as well as for shielding.
Lead brick is available in numerous sizes and shapes including custom
A common lead brick size is a 2" x 4" x 8" (same size as a standard clay brick), weighs 26.25/lbs. each. Shipped by the hundreds for large counter weight applications, cranes, bridges, large doors. etc.
Interlocking Lead Bricks (as shown above)
Interlocking Lead Bricks are tongue and grooved on four edges for easy stacking. They are generally used for High energy radiation shielding, but are available for ballast application as well.
Available sizes:
1" x 4" x 12"

1½" x 4" x 12"

2" x 4" x 8"

2½" x 4" x 12".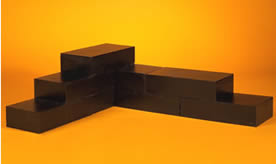 Black is standard ( with other colors available)
2 Part Epoxy Paint
100% Sealed for safe handling
Plastic Laminated / painted lead brick
This is new light-weight innovation that still provides all of the stablility and protection for your lead caves with overall reduced weight.
AvailableSies: 3/4" x 4" x 12" and 1" x 4" x 12" Sizes
Both come with an outer plastic covering.
Applications:
- Large Counterweights
- Ballast
- Marine Applications